East Kootenay Amateur Radio Club
*** NOTICE ***
East Kootenay Amateur Radio Club
Monthly General Meeting

When: September 10, 2022 at 2:00PM Mountain Daylight Time (GMT-6)
Where: UPDATE: MEETING WILL BE HELD VIA ZOOM

Agenda, previous meeting minutes and Zoom meeting links have been sent to
club members via email, please contact our club secretary, Tim Graham for
the Zoom link if you would like to attend.


All ARE Welcome!
---
If you are currently a licensed ham radio operator or would like to be one or you are interested in experiencing the world-wide communication this hobby can offer, please contact us. We can be reached at contact@ekarc.ca or come out to one of our meeting held every second Saturday of the month at the RDEK Emergency Operations Center in Cranbrook, BC at 2:00 pm. Come to the meeting and an afternoon of amateur radio events and activities.  All members and visitors are welcome!


Club Events Calendar
---
Mission Statement:

Since 1935 the mission of the East Kootenay Amateur Club is knowledge and use
of amateur radio through training, mentoring, community service and enhancing
fellowship among radio amateurs.


Greetings from the beautiful East Kootenay region of British Columbia, Canada! One of the oldest amateur radio clubs in Canada, the E.K.A.R.C. is a very active community member, serving the Cranbrook, Creston, Invermere, Kimberley, Sparwood, and Elkford regions, participating in a number of events each year.
This page is intended to keep you informed of club happenings and to hopefully act as your starting point for browsing the world!
The E.K.A.R.C. is NOT responsible for the content of any pages which are linked to from this site!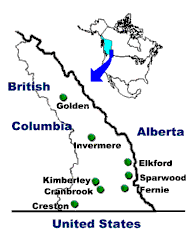 Join us for our 2 metre net every Thursday at 20:00 Mountain Time!

VE7CAP
Cranbrook/
Kimberley
‍
146.940 MHz (-0.600 MHz input, 88.5 Hz tone)

VE7RIN
Fairmont/
Invermere
‍
146.850 MHz (-0.600 Mhz input, no tone)

VE7RCA
Creston/
Kootenay Lake
‍
146.800 MHz (-0.600 MHz input, 88.5 Hz tone)

VE7RSQ
Sparwood/
Crowsnest
‍
147.300 (+0.600 MHz input, 100 Hz tone)
Visits to our website: 04878